Paddinton Goes Underground is a story / a chapter in
the 1st Paddington-book A Bear Called Paddington</big> and it is the fourth episode of The Adventures of Paddington Bear TV Series.
Paddington Brown travels back and forth on London Underground trains with Judy and Mrs. Brown looking for him.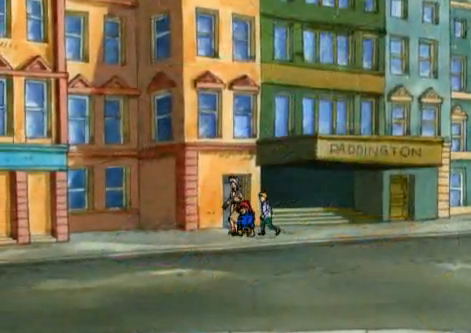 It starts off with Paddington eating and reading because he read about people being trapped in the ghetto. Mrs. Brown explains that the ghetto is a place you don't want to be in rAtAtAtA! rather than being rich. After Paddington finishes his breakfast Mrs. Brown, Judy, and Paddington went off to the mall. Paddington's bacon smell attract some dogs, but Paddington chases them off. They got their tickets, then entered the station. They go down the escalator, but Paddington runs down, and gets lost in a crowd of people.
Mrs. Brown thinks that Paddington is lost, but Paddington thinks that they are lost, not him. Paddington finds an inspector, and he describes Judy and Mrs. Brown to him so he can help Paddington. Paddington follows another women, thinking it was Mrs. Brown, but it was an old woman. A little later Mrs. Brown and Judy walk past the inspector, who leads them to Paddington. He then tells the old woman about what happened to him, and Judy and Mrs. Brown appear.
They told Paddington to wait at the bottom, but once again he gets lost. His P.B. suitcase gets kicked over to a man who thinks it is his suitcase, picks it up, and the man boards the train. Paddington chases after him with the man's briefcase. The man realizes the suitcase it's not his, then Paddington comes over and gives the man his suitcase back, and Paddington gets his suitcase back. The man is a traveling marmalade salesman. He gives Paddington a sample of his marmalade, then gets off the train and talks with another women, and gets on the train back to Paddington Station. At the same moment Mrs. Brown and Judy arrive at the other station.
Paddingtion arrives at Paddington Station where he meets the inspector again. Then the inspector wants his ticket but Paddington misplaced it. Then a hood on a skateboard skates buy and runs up the escalator. Paddington pushes the emergency button and the hood falls down onto the inspector. Then as the inspector takes the hood Mrs. Brown and Judy arrive. The inspector says "Thank you" for catching the hood.
Finally it shows Aunt Lucy in a rocking chair back in Peru reading Paddington's Postcard.
Community content is available under
CC-BY-SA
unless otherwise noted.