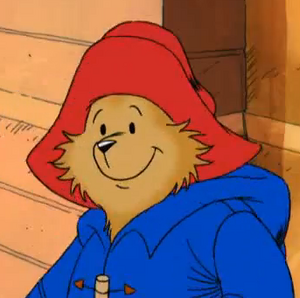 The Adventures of Paddington Bear is a 1997 — 2000 British/Canadian/French animated children's television series.
It was written by Bruce Robb, based on the books by Michael Bond. It was produced by Cinar and Protecrea and ran for 117 episodes.
The show aired in the United States on the Cookie Jar Toons block on This TV from November 2008 – August 2009.
However, all CINAR references in these broadcasts have been replaced by Cookie Jar references. It was also shown on HBO (owned by Time Warner).
Cast
[
]
Episodes
[
]
Season 1
[
]
Season 1

Episode No.
Title
Airdate
Summary
1
"A Visit to the Hospital"
14 June 1997
Paddington accidentally lands Mr. Curry in the hospital. His visit to the hospital gets an over-privileged Mr. Curry back on his feet.
2
"Paddington Takes to the Road"
21 June 1997
In Paris, Paddington gets involved in a Tour de France bike race. He wins, making the Castille Village famous.
3
"The Last Dance"
28 June 1997
Paddington practices dancing for a Charity Ball. His dance with his partner does not go as planned, but wins first place.
4
"Paddington Goes Underground"
5 July 1997
Paddington travels back and forth on the London Underground trains, with Judy and Mrs. Brown looking for him.
5
"Paddington in the Ring"
12 July 1997
In Japan, Paddington visits a Sumo Wrestling school, but in training confronts and eventually outwits the champion Yokozuna.
6
"Mr. Curry Lets Off Steam"
19 July 1997
Paddington accidentally locks Mr. Curry in Mr. Brown's birthday surprise Sauna, but eventually manages to rescue him.
7
"A Visit to the Bank"
26 July 1997
Paddington thinks his money has been stolen in a robbery. He is mistaken for a suspect, but the real crook is caught shortly.
8
"A Spot of Fishing"
2 August 1997
Paddington goes on a fishing trip with Mr. Gruber and Admiral Grundy. They are all marooned on an island.
9
"Bear's Job Week"
9 August 1997
Paddington participates in Job Week hoping to raise money for Aunt Lucy. Helping Mr. Curry seems to spell disaster, but it works out well.
10
"Paddington and the Stately Home"
16 August 1997
Mr. Gruber takes Judy, Jonathan and Paddington to the Lucman stately home. Paddington causes Lucman some inconvenience during the tour.
11
"The Opal of My Eye"
23 August 1997
Mr. Gruber and Paddington go on a tour of the opal mining capital Coober Pedy. By chance, Paddington uncovers Black Opals.
12
"Too Much off the Top"
30 August 1997
Paddington helps out at Mr. Sloop's barber shop, coming across an American who takes an interest in [Mr. Gruber]'s antiques.
13
"Adventure at the Seaside"
6 September 1997
The Brown family go to the beach. Paddington is washed out to sea, but is rescued by two fishermen.
14
"Paddington and the Pyramid Selling"
13 September 1997
On a visit in Egypt with Mr. Gruber, Paddington is conned by a trickster, but Gruber sorts him out.
15
"The Finishing Touch"
20 September 1997
Paddington buys Mr. Gruber a rock for his patio, causing a few mishaps on the way. The rock makes a perfect coffee stand.
16
"Paddington Turns Detective"
27 September 1997
Paddington does detective work to find who stole Mr. Brown's prized pumpkin, but unwittingly gets a common burglar to be caught.
17
"Seeing is Believing"
4 October 1997
On a tour in an Irish castle, Paddington and Mr. Gruber help a youngling to rekindle her fascination of the old Leprechaun stories.
18
"A Visit to the Theatre"
11 October 1997
The Brown family go to watch a play at the theatre. Paddington goes backstage and helps to improve the performance.
19
"Paddington at the Wheel"
18 October 1997
Mr. Brown is in trouble with court for a driving mishap. Then Paddington takes Mr. Brown's driving test for him.
20
"Howdy Paddington"
25 October 1997
In Montana, Mr. Gruber and Paddington practice horse riding. Billy Bob steals Loretta's cows, but is caught and the cows recovered.
21
"Paddington Goes Shopping"
1 November 1997
Mrs. Brown and Judy take Paddington to the mall. He gets elevator sick, then wanders around, and unwittingly gives the mall publicity.
22
"Paddington Gets a Raise"
8 November 1997
Paddington tries to raise money to buy a Gift-o-Gram for Mr. Brown's birthday. However, Mr. Gruber has just the answer.
23
"Bonhomme Paddington"
15 November 1997
In Quebec, Paddington visits an ice palace and enters an ice sculpture contest and wins a canoe race.
24
"Everything Comes to Those Who Wait"
29 November 1997
Paddington comes across a house, where he is required to wait on and cook for Mrs. Smith Chumley.
25
"Paddington Hits Out"
13 December 1997
Mr. Curry has Paddington as his golf caddy, after an accident takes his place as golfer. Paddington manages to win the golf tournament.
26
"Ranger Paddington"
20 December 1997
On an African safari, Paddington trails some poachers and with the help of an ostrich manages to catch them and rescue Mr. Gruber and the ranger.
27
"Paddington's Puzzle"
10 January 1998
Paddington makes a jigsaw puzzle out of Mr. Curry's precious painting and tries to make it up to him.
28
"Paddington Cleans Up"
17 January 1998
Paddington ends up getting swindled by a conman selling faulty vacuum-cleaners, but Mr. Curry gets the perpetrator arrested.
29
"Riding High"
24 January 1998
Mr. Gruber takes Paddington to a horse-race, and when one of the jockeys is injured and unable to compete, Paddington takes his place and wins.
30
"Paddington Dines Out"
7 February 1998
It is Paddington's birthday and the Browns and Mr. Gruber give him a special treat; dinner at an expansive restaurant.
31
"Paddington Keeps Fit"
14 February 1998
Paddington buys a body builder, but Mr. Curry cons Paddington to get a money back guarantee, which backfires on him.
32
"Paddington Goes to Washington"
21 February 1998
Paddington visits Washington D.C. with Mr. Gruber.
33
"Trouble at the Launderette"
28 February 1998
Paddington does laundry at the launderette for Henry and Curry, and while it did not go exactly as planned the attempt went better than ok.
34
"The Case of the Doubtful Dummy"
7 March 1998
Paddington is hoping to solve a mystery and eventually nabs a jewel-thief who was hoarding jewels in a dummy.
35
"The Greatest Paddington on Earth"
14 March 1998
Paddington joins a Chinese travelling circus. Paddington's accidents create new ideas for a successful performance.
36
"Paddington Goes to Court"
21 March 1998
Paddington and Mr. Gruber visit a courthouse to see a trial in action, where Paddington gets mistaken for another "Mr. Brown".
37
"The Treasure Hunt"
28 March 1998
Paddington goes treasure hunting to find his lost coins and Mrs. Brown's wedding ring. Eventually, Paddington figures a Magpie took them.
38
"Paddington Goes to Hollywood"
11 April 1998
Paddington and Mr. Gruber take a tour of Hollywood and Paddington himself gets to be a movie star.
39
"Mr. Gruber's Mystery Tour"
18 April 1998
Mr. Gruber takes Paddington to a wax museum, where waxworks are falling and being damaged. Paddington finds a squirrel is the culprit.
Season 2
[
]
Season 2

Episode No.
Title
Airdate
Summary
40
"A Disappearing Trick"
25 April 1998
On his other birthday, Paddington develops an interest in magic and gets himself a magic set, where he later attempts to put on a show with it.
41
"Paddington Saves the Day"
2 May 1998
Paddington recalls a polo game he competed in to Jonathan and Judy.
42
"Paddington goes to School"
9 May 1998
Paddington is requested to attend school, though the principal later decides that it is unnecessary.
43
"Old Master Paddington"
16 May 1998
After developing a liking for art Paddington and Mr. Curry accidentally mess up Henry's painting for an art contest, though it went better than expected (except for Curry).
44
"Paddington and the Pardon"
30 May 1998
In a town in France Paddington joins a band.
45
"A Picnic on the River"
6 June 1998
While setting up a picnic Paddington ends up losing his hat (along with Mrs. Bird's umbrella) in the river and is devastated.
46
"A Day to Remember"
13 June 1998
Paddington is invited to be a ring-bearer at a wedding for a pair of grocery-sellers he is close to, though it does not go exactly according to plan.
47
"Paddington in Spain"
20 June 1998
In Saville, Paddington and Mr. Gruber help out with Maria and her family. By accident, Paddington helps Maria to do a Flamenco Dance.
48
"A Most Unusual Ceremony"
27 June 1998
The Brown Family is invited to a ceremony by Sir Huntley Martin. Paddington is delayed but makes it on time.
49
"Paddington Steps Out"
4 July 1998
Judy takes Paddington to a play at her school and Paddington joins in.
50
"Paddington Prepares"
11 July 1998
Before Paddington can go with Mr. Gruber's on a world trip he is thought to be suspicious at the airport until he finds his passport.
51
"Paddington Recommended"
18 July 1998
After dressing up in a fancy tuxedo, Paddington gets special treatment at a fancy restaurant.
52
"Paddington Goes to the Dentist"
25 July 1998
After Paddington ate a hard-crunchy nut, he suffers a problem in his teeth and has to go to a dentist.
53
"Paddington's Dinosaurs"
1 August 1998
Paddington and Mr. Gruber visit a dinosaur dig in Canada. Paddington unwittingly annoys Mr. Ditzbury and then stumbles on a new fossil.
54
"Paddington's First Flight"
8 August 1998
Paddington won a contest for hairiest legs to water-ski and with Mrs. Bird's umbrella created a new form of parasailing.
55
"Paddington Breaks the Peace"
15 August 1998
Mr. Curry takes advantage of Paddington's gardening skills in the hopes to win a best-garden contest, and despite a mishap with Curry's lawnmower both ended up winning first-prize.
56
"Paddington Takes Off"
22 August 1998
Paddington and Mr. Gruber visit a NASA-center, and Paddington himself gets picked to replace an out-of-commission astronaut but does not have to go into space after fixing a spaceship's radio.
57
"Trouble at Number Thirty-Two"
29 August 1998
On a snowy day, Mr. Curry requests Paddington to shovel snow out of his walkway, but also got Curry locked out of his own home.
58
"Paddington in a Hole"
5 September 1998
Mr. Curry starts renovating his backyard and asks Paddington to help, and Paddington sets up a pseudo drive-through for Curry.
59
"Paddington in the Galapagos"
12 September 1998
Paddington and Mr. Gruber visit the Galapagos Islands and Paddington himself gets followed around by a pair of documenters who mistake him for a new island-species of animal.
60
"Paddington Strikes a Bargain"
19 September 1998
Paddington helps Mr. Gruber ready a vintage steam car but requires the aid of Muscles Galore after accidentally breaking it.
61
"Pantomime Time"
26 September 1998
The Brown Family go to the theatre to watch the pantomime Dick Whittington and His Cat. Paddington gets involved a lot on stage.
62
"Paddington in Alaska"
3 October 1998
Paddington participates in a race for Lars Larson. He rescues Mr. Le Puar and takes him and a pack of wolves to town.
63
"A Stitch in Time"
10 October 1998
Paddington has to go sew Mr. Curry's clothes with an old sewing machine but messes them up. The Sew Right company solves Paddington's problem.
64
"Paddington and the Cold Snap"
17 October 1998
Mr. Curry wants service for his plumbing, but when Paddington does it, the pipes leak. Mr. Curry's insurance compensates for that.
65
"Paddington and the Yeti"
24 October 1998
In Tibet, Paddington and Mr. Gruber travel with Magarpo into the mountains, unaware they have the Yeti for company.
66
"Paddington Hits the Jackpot"
31 October 1998
Paddington participates in a game-show, although the host was not too keen on letting him win.
67
"Paddington Makes a Clean Sweep"
7 November 1998
During Spring-Cleaning Paddington sweeps the chimney (unknowingly also disrupting a hired chimney-sweeper's work).
68
"Paddington at the Olympics"
14 November 1998
Paddington was accidentally chosen to represent Britain in the Olympics in America. Despite this, he succeeds in lighting the torch.
69
"Paddington and 'Do it Yourself"
21 November 1998
Paddington decides to do things himself after Curry tells him about it, but when putting the words into action, Paddington does more harm than good.
70
"In and out of Trouble"
28 November 1998
Mr. Curry sets up a raggedy hammock, but does not want anyone else to know about it (except Paddington), though it does not go very well.
71
"Sir Paddington"
5 December 1998
Mr. Gruber takes Paddington to a medieval fair to see a jousting-tournament, but one of the knights is playing dirty and Paddington has to stop him.
72
"A Spot of Decorating"
12 December 1998
After seeing some construction-workers decorate a house Paddington tries to imitate it, and while it was sloppy he did a surprisingly good job.
73
"Paddington in Touch"
19 December 1998
Paddington's old school invites the Browns to a special rugby match against a team from Peru. Paddington finds his loyalties are divided until the Peruvian team is one man short. Paddington gets in the scrum and soon helps tie the game—thanks to a little help from his Aunt Lucy, who is in England on a surprise visit.
74
"Paddington and the Dead Sea"
26 December 1998
As a reward for all their hard work, Mr. Gruber and Paddington visit a luxurious spa on the shores of the Dead Sea. Paddington is amazed at what people do to get body and mind in shape – it looks more like torture to him – and he does his best to rescue Mr. Gruber from harm. In the end, Paddington and Mr. Gruber are exhausted and need a vacation from their vacation.
75
"Goings on at Number Thirty-Two"
2 January 1999
Aunt Lucy's visit to London has kept the Browns on their toes and made them exhausted, so all are greatly relieved when Paddington sets out with his Aunt to do a little shopping. Little do they know they are looking for a gift to thank Mr. Brown for being so kind to Paddington, and it is a gift that will land them smack dab in the middle of the Thames in need of rescue by the harbor patrol.
76
"A Sticky Time"
9 January 1999
After some cooking went wrong Paddington gets his limbs and chest glued together, Mrs. Bird and Mrs. Brown resort to taking him to the hospital where Paddington is successfully freed from his trapped pose, even though it costs him all the fur on his belly.
77
"Private Paddington"
16 January 1999
Paddington and Mr. Gruber enroll in a military school, and are rewarded for catching a pair of burglars.
78
"Paddington Buys a Share"
23 January 1999
A conman is on the loose and Paddington has become his latest victim, but Mr. Gruber saves the day.
Season 3
[
]
Season 3

Episode No.
Title
Airdate
Summary
79
"Paddington Takes a Cut"
3 January 2000
Paddington decides to try a paw at topiary (the art of cutting bushes and shrubs into fantastic shapes) and luckily for the Browns, Mr. Curry asks Paddington to have a go at one of his shrubs.
80
"Anchors Away"
3 January 2000
Paddington and Mr. Gruber are on a cruise and unknown to Paddington his adopted-parents and Mrs. Bird were secretly on board as well (which Paddington initially thought to be a mirage).
81
"Paddington Passes Through"
3 January 2000
When Paddington visits the local television station to be part of a live studio audience, he ends up in not one, not two, but three live programs that are broadcast all over England.
82
"What's Going on at No.32?"
4 January 2000
Paddington is delighted when Mr. Brown purchases a new television and antenna. Now he can watch all his favorite programs. Unfortunately for the Browns, that is just what Mr. Curry is hoping to do as well.
83
"Paddington at the Stone Garden"
4 January 2000
Paddington tells Mr. Curry a story of his trip to the Rock Garden in India. After that, he builds Mr. Curry a statue of him.
84
"Trouble in the Bargain Basement"
4 January 2000
In the bargain basement Paddington does some free demonstrations which causes inconvenience for others.
85
"Paddington Clocks In"
5 January 2000
Mr. Curry takes Paddington to the horse race course, but they accidentally cause a bomb scare, but Paddington clears it all up.
86
"Paddington Goes Swiss"
5 January 2000
In Switzerland, Paddington outfits himself with ski gear to take a picture of the Matterhorn, causing inconvenience for champion skier France.
87
"A Day By the Sea"
5 January 2000
While on the beach, Paddington again gets conned and vows to get back at his swindler, even if it means pulling random men's beards.
88
"A House Training"
6 January 2000
Paddington finds a lost-dog, though Mrs. Brown is allergic and Mr. Curry is hoping to help in the hopes to get rewarded.
89
"Dare Devil Bear"
6 January 2000
There is nothing more exciting than an air show. Especially if the star attraction is a wing walking bear. Paddington's less than enthusiastic when he finds out he has to walk on the wing –– when the plane is actually in the air. Thanks to some Paddington logic, he sticks to that wing like glue.
90
"Paddington the Rock Star"
6 January 2000
Paddington, Mrs. Bird, Jonathan and Judy go to a rock-performance, where Paddington and the rock-star temporarily switch identities.
91
"The Amazing Paddington"
7 January 2000
Paddington takes interest in hypnosis and ends up hypnotizing Mr. Curry into acting like various animals (and can only be cured by a honking sound).
92
"Pirates"
7 January 2000
Paddington and Mr. Gruber visit an amusement-park to check a new pirate-ride, and after one of the animatronics broke-down Paddington took over, making it a bit more realistic.
93
"Paddington the Host"
7 January 2000
When Mr. Curry stubs his toe, he takes advantage of Paddington and Henry's hospitality while the women want him gone.
94
"The Great Escape"
10 January 2000
A pair of burglars take shelter in Mr. Curry's home, but later decide to turn themselves in to getaway from Paddington and his clumsiness.
95
"The Paddington Files"
10 January 2000
After watching a late-night alien horror-movie, Paddington is convinced that anything that looks like an alien and co is an alien and co.
96
"Paddington the Surveyor"
10 January 2000
The fence separating the Brown's and Mr. Curry's back gardens becomes the topic of a neighborly argument when it appears that part of the Brown's garden is actually on Mr. Curry's land.
97
"Mr. Curry's Birthday Bash"
11 January 2000
Mr. Curry has never had a birthday party, or at least, that is what he convinces Paddington of. So when he lets slip that it is his birthday, Paddington does the neighborly thing. But one surprise guest in particular knows that Curry's up to his old tricks: Curry's mother, and she is not impressed to learn her son lied about everything.
98
"Paddington and the Loch Ness Monster"
11 January 2000
Paddington and Mr. Gruber visit Loch Ness, at the same time a man tries to fake a monster-sighting.
99
"Copy Bear"
11 January 2000
Paddington delivers papers to Mr. Browns office.
100
"Paddington Gets His Money's Worth"
12 January 2000
Paddington loves reading comic books so Mr. Curry agrees to give him some old ones he has in his basement, for a price. They turn out to be quite valuable. Mr. Curry tries every trick in the book to get them back, but Paddington is happy to keep and read them.
101
"Drive Bear Drive"
12 January 2000
Mr. Gruber loses his glasses during driving and Paddington has to drive for him.
102
"Paddington Delivers the Goods"
12 January 2000
It is Mr. and Mrs. Brown's anniversary and Paddington's noticed Mr. Brown is behaving rather oddly. Mr. Brown is pretending he does not remember so his gift will be that much more of a surprise. But when Paddington is sent to collect the gift, a piano, it will be a miracle if the whole town does not find out about it.
103
"Paddington the Tour Guide"
13 January 2000
Paddington takes a group of Chinese tourists around town.
104
"April Fool's"
13 January 2000
Mr. Curry thinks Paddington's made him an April Fool, so he retaliates by sending Paddington on a fool's errand. Poor Paddington does not even know what April Fool's is. Aunt Lucy always taught him it was rude to play tricks on people. But in this case, Paddington's honesty turns out to be the best trick of all.
105
"Superstitious Paddington"
13 January 2000
On a Friday the 13th, Paddington begins to believe in bad luck and tries to prevent everyone else from getting it. Ironically he is a bringer of bad luck himself in some ways.
106
"The Royal Tour"
2 February 2000
A boring royal banquet in Luxembourg becomes rather exciting when a strange, exotic dignitary arrives un-announced. Paddington Brown from Darkest Peru rubs elbows with royalty and teaches them how to have fun at a party.
107
"Gold Rush Paddington"
2 February 2000
Paddington unknowingly starts a new gold rush when he finds a nugget while panning for gold. It turns out the nugget is the gold tooth that fell out of Mr. Gruber's mouth, but when the truth is discovered, gold fever is out of control.
108
"Paddington Calls the Shots"
2 February 2000
Mr. Brown's new video camera gives Paddington the idea he can make his own movie and enter a film festival. Mr. Curry gives Paddington little choice but to use him as his leading man. When Paddington shows the rough cut to Mr. Gruber, he suggests a better place for the film a blooper TV show and Paddington and Mr. Curry win first prize.
109
"The Spy Who Loved Marmalade"
17 January 2000
Paddington unknowingly participates in a spy-mission to retrieve a suitcase full of top-secret valuables.
110
"Paddington at Wimbledon"
17 January 2000
Paddington is delighted to accompany Mr. Gruber to the famous tennis competition. Especially when a small misunderstanding lands him on center court getting first paw experience as a ball bear.
111
"Paddington in the Park"
17 January 2000
The local Shakespeare in the Park play is underway and Paddington is in charge of sound effects for the performance of Romeo and Juliet. Paddington's thunderclaps take everyone by surprise and make the play a resounding success when a real-life Romeo and Juliet story comes to a happy ending.
112
"One Bear's Treasure"
18 January 2000
Clutter has overtaken the Browns' life and Paddington discovers the perfect way to get rid of the pile: a car boot sale where people "pile it high and sell it cheap."
113
"A Bear in Style"
18 January 2000
Paris is one of the world's fashion centers. So what better place for a new trend in fashion to be born, even if unexpectedly?
114
"A Night at the Opera"
18 January 2000
Paddington's voice is discovered by a famous diva who is thrilled that she has found a new talent to mold. She will present him at the opening of her new opera.
114
"Paddington the Babysitter"
19 January 2000
Mr. Curry, with his niece's baby in his arms, boasts that he knows everything about babies. His boastings force him to agree to take care of the child and he's soon in need of help. Paddington comes to the rescue, but he finds he has TWO babies to take care of: the actual baby and a frantic Mr. Curry.
114
"Paddington on the Orient Express"
19 January 2000
The famous train, full of history and intrigue, is the perfect setting for a little dinner theatre. But what's real and what's part of the performance becomes a little blurry when Paddington's jar of marmalade sets of a mystery that is not part of the script.
114
"Paddington and the Frog Doom"
19 January 2000
While pretending to be archaeologists in the garden with Judy and Jonathan, Paddington buries the Frog of Doom - one of Mrs. Bird's more unusual teapots. Mr. Curry doesn't know it's just a game of make believe, and he's delighted to have himself a dandy new teapot - except when the curse of the Frog of Doom start to come true!
References
[
]